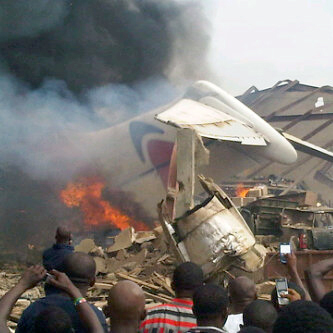 President Goodluck Ebele Jonathan has declared a three-day period of national mourning for all those who lost their lives in the Dana plane crash in Lagos today.
According to a statement released from the State House, the President cancelled all his public engagements scheduled for tomorrow and has also directed that the Nigerian flag be flown at half-mast for the three days of national mourning.
Meanwhile, the President has ordered the fullest possible investigation into the crash.
In compliance with the President's directive, the Minister of Aviation, Princess Stella Oduah has already left Abuja for Lagos to oversee investigations and present an interim report to the Federal Government as quickly as possible.
The President joins all Nigerians in mourning all those who lost their lives in the plane crash which has sadly plunged the nation into further sorrow on a day when Nigerians were already in grief over the loss of many other innocent lives in the church bombing in Bauchi State.
The President however assured air travellers in the country that every possible effort will be made to ensure that the right lessons are learnt from the tragic loss of valuable lives in today's plane crash and that further measures will be put in place to boost aviation safety in the country.
He prayed that God should grant the families of the victims of the plane crash the courage and fortitude to bear their irreparable loss.