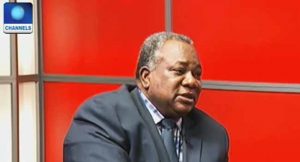 A former lawmaker has joined other observers, including rights activists in reacting to President Muhammadu Buhari's decision to re-nominate Mr Ibrahim Magu as EFCC Chairman and retain Mr Babachir Lawal as Secretary to the Government of the Federation.
Mr Babatunde Ogala, a former lawmaker in the Lagos state House Of Assembly, faults the interim report sent to the Presidency by the Senate as not sufficient enough to throw out the candidacy of both men.
He said that while he would not exonerate or condemn the SGF, the votes and proceeding and interim reports, did not suggest that he was given a fair hearing.
"The President has not said you were right or wrong. He has only pointed out their procedural errors.
"A legislature takes resolutions to the executive – You do not send interim reports", he stressed, adding that the Senate had sent an incomplete report.
Questioning the actions of the Senate, he said: "Supposing the man had been sacked in your interim reports and your final reports now prove that he's not even liable, what would have happened?"
Selective Application Of Constitution
Sharing a different view, rights activist, Richard Nwankwo, believes both the SGF and the EFCC boss, ought to have stepped down from office to allow for proper investigations into allegations leveled against them.
Nwakwo stressed that in the fight against corruption, there should be an elaborate, comprehensive and an intellectually driven campaign; which he believes is not what is playing out in reality.
"Like I have repeatedly maintained, the selective application of the provisions of this constitution is the highest form of corruption."
He then added that "even if there is no merit from the allegation from the Senate, I expect that the gladiators involved to have stepped aside for a thorough investigation to be done."
They both gave their opinions while speaking on Channels Television's breakfast show, Sunrise Daily.
President Buhari had on Monday re-submitted the name of Mr Magu to the Senate for confirmation as the Chairman of the Economic and Financial Crimes Commission.
In that letter, the President explained that the nominee had satisfactorily clarified the allegation, which led to the earlier rejection by the Senate.
The President also rejected the recommendation of the Senate, asking for the removal of the Secretary to the Government of the Federation (SGF), Babachir Lawal, over allegation of corruption.
Different Circumstances
Meanwhile, the Coalition Against Corrupt Leaders (CACOL), has highlighted what it called differences in the circumstances surrounding both situations involving Magu and Lawal.
In a statement made in reaction to President Buhari's letter, the spokesman for CACOL, Mr Wale Salami, explained that "there is the imperative need to separate Magu's case and that of Babachir".