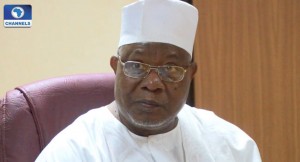 Jaiz Bank Plc has declared a profit before tax of 794 million Naira in the 2015 financial year ending, a 526 per cent growth against the preceding year with 126.8 million Naira.
The bank also declared a total income of 4.4 billion Naira and financial assets growth of 18 per cent and deposits growth of 41 per cent with 25.3 billion Naira given as loans to customers for the financial year.
The Chairman of the Bank, Mr Umar Mutallab, told shareholders at the Annual General Meeting that the bank was set to surpass all targets in the coming financial year.
There was barely a space left unfilled as shareholders gathered for the Annual General Meeting of Jaiz Bank Plc to get an update on the bank's financial standing for the 2015 financial year ending.
The Secretary of the bank, Rukayat Salaudeen, brought the first set of good news, as she declared a 10 billion Naira increase in the authorised share capital of the bank.
With 18 per cent increase in total assets closing at 52. 6 billion Naira, 47 per cent finance income at 23.8 billion and a customer deposit base of 38.7 billion Naira, shareholders look forward to the future of the bank.
The Chief Executive Officer of the bank, Mahe Abubakar, said it took over two years to break even before the success story which they plan to build upon.
It is a plan the chairman of the bank believes is achievable through close knitted collaboration.
The non-interest bank's new slogan, 'For A Better Life', is set on its objective to add value to the generality of humanity by touching lives in a positive way.
With the right issue oversubscribed by shareholders, the future of non-interest banking in Nigeria, with Jaiz Bank taking the lead, is set for greater heights.