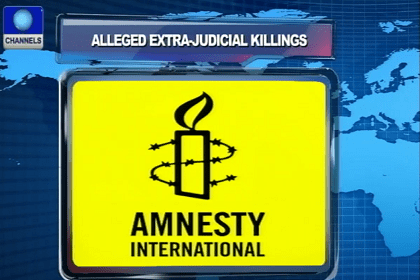 Rights Group, Amnesty International claims to have verified a video which appears to show Nigerian soldiers killing Boko Haram suspects and dumping their bodies in a mass grave.
Amnesty alleges that the footage includes images of suspects being pulled off the back of trucks and beaten by soldiers and allied civilian militias.
Amnesty said the extrajudicial killings occurred shortly after Boko Haram's attack on a detention centre in Giwa Barracks, in the northeastern city of Maiduguri, on March 14.
Amnesty International's Secretary General, Salil Shetty, claims that the footage is a further proof of the appalling crimes being committed with reckless abandon by all sides in the conflict .
"Numerous testimonies we have gathered suggests that extrajudicial executions are, in fact, regularly carried out by the Nigerian military," she added.
Rights Groups argue that such acts by the military are not only wrong but counter-productive, as they fuel much of the anger that has helped drive insurgency over the past five years.