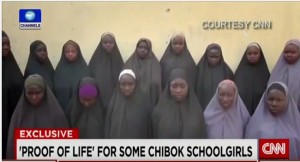 The Nigerian government says it will not fall for the antics of fraudsters asking the Federal Government for money to negotiate the release of the Chibok girls.
President Muhammadu Buhari made the statement on Friday while reiterating that the rescue and return of the remaining Chibok girls abducted on April 14, 2014, by members of the Boko Haram terrorist group remains a priority of his administration.
The girls were taken from their dormitory in Government Girls' Secondary School in Chibok a community in Borno State in northeast Nigeria while they were preparing for their final year examinations.
Receiving the Primate and Archbishops of the Church of Nigeria (Anglican Communion) at the State House, President Buhari said that his administration would continue to insist on a thorough authentication of the identities of any persons or groups claiming to have custody of the girls before entering into negotiations with them.
The President, however, assured the Anglican Bishops of his steadfast commitment to the rescuing of the Chibok girls, saying that their safe return will be one of his greatest fulfilments in office as President.
Clean-up Of Ogoniland
In a statement by his spokesman, Femi Adesina, President Buhari also assured the clerics that the Federal Government would give maximum attention to the clean-up of Ogoniland which was launched on Thursday.
"We inherited the United Nations Environmental Project report from the previous administration. We decided it needed urgent attention, in spite of the economic crunch because of our concern for the welfare and environmental comfort of the people of Ogoniland," he said.
Earlier in his remarks, the Primate of the Church of Nigeria (Anglican Communion), Most Reverend Nicholas Okoh, pledged the support of the church in helping the Federal Government achieve its objectives of improving security and the welfare of Nigerians.