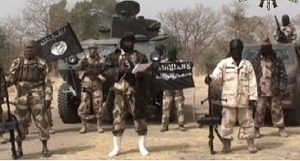 Two people have been reported killed in Kayamla village of Konduga local government area of Borno State in north-east Nigeria.
A resident of the community, located in the outskirts of Maiduguri, the Borno State capital, told Channels Television that unknown gunmen believed to be members of the Boko Haram sect stormed the village on Friday night.
The resident said the gunmen unleashed terror on the Kayamla village, killing two people in the process.
The Kayamla attack is the first reported attack carried out by the militants in the troubled Borno State since the declaration of General Muhammadu Buhari as winner of the just-concluded presidential election.
Residents of Adamawa, Borno and Yobe States, worse hit by the Boko Haram insurgency, have called on the president-elect to start by addressing the security problem bedevilling the north-east zone.
They explained that any other developmental programme for the people of the zone may have to wait until peace returns to the area.