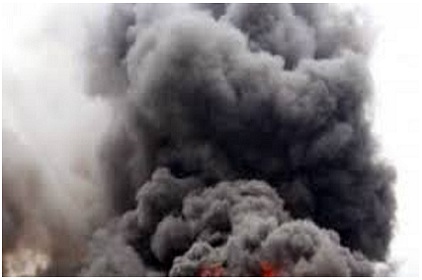 A suicide bomber and three others have been confirmed dead following a bomb explosion at the Nigerian National Petroleum Corporation (NNPC) Mega Filling Station, in Hotoro area, along Maiduguri Road, Kano.
The bomb went off about 10AM on Monday July 28.
The suicide bomber, suspected to be a female, had slipped into the crowd of citizens buying kerosene at the Station before detonating the explosives. The suicide bomber and three others have been confirmed dead, eight persons are injured and rushed to the hospital.
According to a statement by the Police Public Relations Officer, Frank Mba; "It is instructive to note that the Mega Station did not go ablaze due to the security barricade put in place by the Policemen on duty at the station. Such a situation would have clearly complicated the Emergency response.
"Security Forces have cordoned off the scene, and Police Bomb Disposal Experts are 'sweeping' the area."
Citizens have been advised to stay off the scene, be vigilant and report any suspicious person(s) or activities to security forces.
He added that full scale investigation has commenced, as intensive patrol of the city was ongoing.