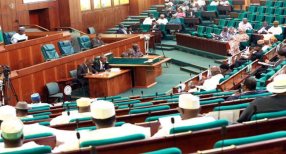 The House of Representatives on Tuesday, November 28 announced that it will suspend plenary from Thursday, November 30.
The Deputy Speaker of the House, Mr Yussuff Lasun announced this today during the debate over the proposed 2018 Budget.
President Muhammadu Buhari on November 7, 2017 addressed a joint session of the National Assembly concerning the 2018 Appropriation Bill and presented the proposed total expenditure of N8.612 trillion to the National Assembly.
READ ALSO: Buhari Presents 2018 Budget Proposal To National Assembly
The House Representatives started debate about 2018 Budget today, November 28 during its plenary with the Deputy speaker presiding over it.
Lasun said that debate is not tantamount to passing the bill but the debate is necessary so that things will be done accordingly and the calendar will be followed.
He said the suspension is necessary to allow members proceed on oversight assessment and to be able to do proper defence sessions for the 2018 budget.
The suspension will last for three weeks.