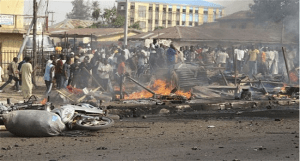 A female suicide bomber on Sunday attacked a motor park in Damaturu, Yobe state, North East Nigeria.
The Police Public Relations Officer of the Yobe State Police Command, ASP Toyin Gbadegesin, who confirmed the incident to Channels Television, said the incident occurred around 12:20 PM
He said eight people died in the blast while 32 others are critical injured and are receiving treatment at the General Sani Abacha Specialist hospital in Damaturu.
A visit to the hospital revealed that the health workers on duty were working hard to give the necessary support in rescuing those brought to the Accident and Emergency Unit.
The PPRO also disclosed that the suicide bomber targeted security personnel on patrol at the park but because she was skeptical of being noticed, pretended to be a passenger at the park.
He said she later boarded a Sharon bus and shortly after triggered the Improvised Explosive Device (IED) killing herself and eight others.
"The suicide bomber attempted to enter the security men on patrol but she was noticed and when our men prevented her from coming close to them and as they were strategising to confront her, she pretended to boarding a car and before anyone could know, she triggered the IED killing herself and eight others" the PPRO said.
When our crew visited the scene of the blast, the flame of the Sharon bus has been put off by the officers and men of the State Fire Service.
An eye witness Mallam Idrissa, who is a commercial driver, at the park told Channels Television that "he left his car and went beside the park with the intention of giving his handset to commercial service chargers when the incident happened
He said the "sound and the trauma they went through was much that left the scene in serious confusion for long"
Sunday's blast is the second bomb explosion targeting a densely populated area in Damaturu, the Yobe state capital, since the commencement of the Boko Haram insurgency.
The first was in June last year where nine football fans watching the Mexico Vs Brazil encounter at the Brazil 2014 World Cup tournament were brutality killed by a bomber who attempted to enter the cinema arena.
This attack, which is yet to be claimed by anyone, is coming several hours after members of the Boko Haram terror group, launched an attack in Gombe.
Heavily armed members of the sect were said to have overwhelmed a security checkpoint at the outskirts of the city, before moving in to attack an Army barracks there.
The Defence Headquarters later noted that security forces repelled the attack by Boko Haram militants on Gombe, the capital of Gombe State, in north eastern Nigeria.