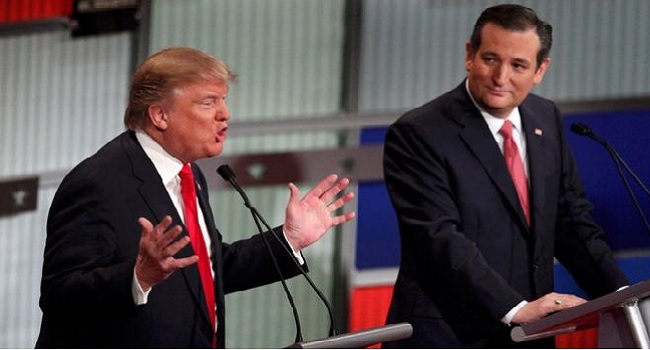 Republican frontrunner, Donald Trump, has attacked his fellow republican presidential contender, Ted Cruz, over his birth in Canada.
The BBC reported that in the latest Republican debate for White House hopefuls, Mr Trump told his rival, "There's a big question mark over your head."
The constitution mandates the President be a "natural born citizen" of the US.
Cruz forcefully responded to Trump's accusations that he is not eligible to be President because he was born in Canada – a controversy that Trump has only recently embraced.
"Back in September, my friend Donald said he had his lawyers look at this in every which way," Cruz said. "There was nothing to this birther issue."
He added, "Since September, the Constitution hasn't changed. But the poll numbers have."
Issues of national security, the economy and foreign policy also played heavily in the debate.
In the polls, the pair are leading the five other candidates, who were also on the stage in North Charleston.
The debate came just two weeks before the first real test of the campaign, when voters in Lowa picked their Republican and Democratic choices for President.
The event, hosted by Fox Business Network, came after days of Mr Cruz and Mr Trump taking shots at each other, shattering a months-long period of goodwill between the two men.
The start of hostilities began a week ago when the billionaire businessman started raising questions about whether the Texas senator's birth in Canada put his eligibility in doubt.
But on the debate stage on Thursday night, Mr Cruz said there was "zero chance" of a lawsuit succeeding because the Constitution's definition of "natural born citizens" included people born to an American parent.
Mr Cruz was born in Calgary to an American mother and a Cuban father.
But the business mogul stood firm, noting that a Harvard law scholar had raised doubts and Mr Cruz could face lawsuits by Democrats wishing to challenge his qualification.