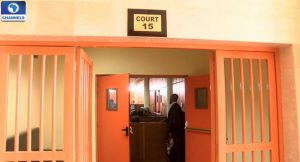 A Magistrate Court in Osogbo, the Osun state capital, has convicted a 41-years-old man identified as Waidi Adelabu, for displaying cannabis publicly.
The accused was charged for possession and public display of cannabis popularly known as "weed" on two count charge.
The Prosecutor, Mr Elisha Olusegun said Adelabu committed the offence on January 9, 2017, at about 2:00 pm at Oke-Baale area, Osogbo.
He said: "Without lawful authority he had in his possession two wraps of weed suspected to be Indian Hemp otherwise known as cannabis sativa".
The Prosecutor added that the offence contravenes Section 430 (1) and 249(D) of the criminal code cap 34 vol. II laws of Osun-State of Nigeria 2002.
The accused on the other hand, pleaded guilty to the two count charge preferred against him.
Mr Elisha tendered the statement of the accused person which was admitted by the court as exhibit 'A' and two wraps of weeds which was also admitted as exhibit 'B'.
Before the Magistrate handed down the sentence, the defendant, Mr Badmus Kazim, giving allocutus plea, said the accused person saved the time of the court and showed remorse in conducting himself in good manner and doesn't have any record of previous conviction.
He said: "I plead with the court to make use of section 430 by providing an option of fine to the convict".
subsequently, the Chief Magistrate, Mr Olushola Aluko, in his ruling, sentenced Waidi Adelabu to six month imprisonment or pay a fine of 10,000 Naira.