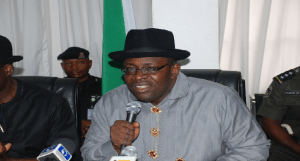 Bayelsa State Governor has signed the state Physical Planning and Development bill into law.
The Act addresses urban, regional and physical planning in line with Governor Seriake Dickson's administration policy of transforming the entire Bayelsa landscape.
Appending his signature on the bill at the Government House in Yenagoa, the Bayelsa State capital in south-south Nigeria, Governor Dickson said the essence of the bill was not only to tackle the issue of physical planning, but also to strengthen its revenue generation drive towards boosting the internally generated revenue base.
According to the Governor, the establishment of the new law harmonises all the existing legislation in the defunct Capital City Development Authority (CCDA) to be administered by a board at the state level, while the local planning authorities would oversee the same assignment at the Local Government level.
Governor Dickson also urged intending development partners and oil companies operating in the state to abide by the physical planning and development law as responsible corporate citizens of the state, by paying levies as and when due.
"With the establishment of this bill, the stage is set for development partners, as well as those already doing business in Bayelsa and several other oil operators, who hitherto, were operating outside our laws; hopefully will comply with our laws as responsible corporate citizens and pay their levies and bills as and when due.
"The board will be in charge at the state level and in the case of the Local Government Areas, the local planning authorities will oversee their activities," the Governor said.
The Speaker of the Bayelsa State House of Assembly, Right Honourable Konbowei Benson, who presented the Physical Planning and Development Bill for accent, explained that the passage of the new bill brought to 49, the total number of bills considered by the House.