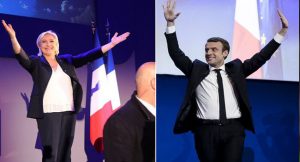 Centrist Emmanuel Macron and far-right leader Marine Le Pen have both advanced to the second rounds of the French elections.
With 79 per cent of Sunday's votes counted, Mr Macron stands on 23.8 per cent with Mrs Le Pen on 21.5 per cent.
It is the first time in 60 years that neither of France's main left-wing or right-wing parties has had a candidate in the second round.
Their nearest challengers, centre-right François Fillon and hard-left Jean-Luc Mélenchon, fell behind, with just over 19 per cent each.
The second round of the elections will comes up on May 7.