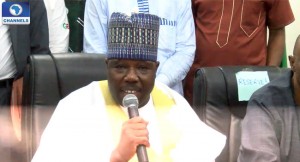 The newly appointed Chairman of the Peoples Democratic Party (PDP), Senator Ali Modu Sheriff, has expressed readiness to abide by the tenure agreement.
He told Channels Television on Monday that he would not stay in office longer than expected before the party's National Convention is conducted to elect principal officers of the party.
According to him, consultations are ongoing with various organs of the PDP, which will lead to the roll out of plans for the National Convention which is expected to hold in May.
Senator Sheriff was appointed as the PDP's substantive chairman two weeks ago amid controversy from some party members.
Some of the disagreements were however laid to rest when both the party's caucus, board of trustees and some members of the National Executive Committee agreed to work with the chairman but directed that he organises a National Convention in May.