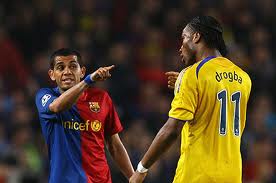 A 23-year-old boy was stabbed to death at a makeshift pub, Shiro in Lagos on Tuesday night during a fight between fans of Barcelona and Chelsea football clubs.
According to police authorities, the boy was killed  when supporters of the two clubs some of whom were reportedly drunk, engaged in a fight following the outcome of the football match which favoured Chelsea FC.
The spokesperson for the state police command, Mr. Joseph Jaiyeoba, confirmed the incident, he however stated that no arrests had been made.
"On Tuesday, around 10pm, a report reached Shasha Police Division that one John Idoko was stabbed to death with a broken bottle during a match between Chelsea and Barcelona football clubs," he said.
The policespokeperson also said that "the owner of the pub said almost all her property was damaged during the fight as the fans went crazy."
Also, two football fans lost their lives in a ghastly motor accident while celebrating their club's victory.
Mr. Jaiyeoba confirmed the two deaths and warned fun seekers to be careful when celebrating, "there should be a limit to every celebration…celebrations should be carried out in a peaceful manner ".
"Around 11:30pm, a Volkswagen bus somersaulted and caught fire around Ojota end of Ikorodu Road inward Maryland. The two occupants were burnt to death" he said.