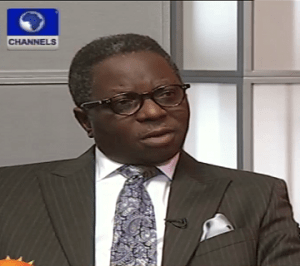 The President and Vice Chancellor of Babcock University, Professor James Makinde, has said that socio-political and economic factors are responsible for the poor standard of Education in Nigeria.
Speaking on Channels Television's programme, Sunrise Daily, on Tuesday, Professor Makinde also identified the quality of teachers available in Nigerian institutions as the cause of student's failure.
"I think overall it has to do with the quality of teaching. Overall the socio-economic level of the country and nutrition also have  to do with how much a student comprehends and retains. Teacher's strike and Boko Haram insurgency in the north-east are also contributing, as the mind of the student may not be settled as it used to be," he said.
In finding solution to the gradual decline of the education system in Nigeria, he urged all teachers to be pro-active and emphasised the need for parents to desist from paying contractors and invigilators in an examination for their children to pass the examination.
"Teachers need to be proactive and the parents need to be cooperating. We have parents who are actually paying contractors to take examination for their children, who are paying invigilators not to come into the exam hall, who are bringing people to help their children and purchasing fake results for their children to enter university. Parents have a very big role to play. It is not just one single contribution. It is like an ailment that has serious virus digging in to pull it patient down," he said, describing the situation of thing in Nigeria.
Also, Professor Makinde emphasised  that  the accreditation system in the University should be standardised, pointing out that the accreditation of university, should be the responsibility of the government in order to beef  the quality and standard of education in Nigeria.
According to Makinde, returning to the basics would mean checking the quality of the teachers who are to impart knowledge, thus, insisting  that in choosing personnel, the test of character should be a key factor.
"The fact that somebody has certification recognition or accreditation in any university does not mean they have the substance that you are looking for. And while those who has the substance do not have the character you want to instill to the student, so you need to test the character, and through the referral he brings to the organisation."
From Professor Makinde's comments, it is obvious that no nation can succeed beyond its level of education, as the quality of a nation's education reflects in the nation itself as seen across the world.
It is pertinent for the Nigerian government to put more effort in improving the nation's standard of education, as it has a lot to do with the level of development that the country would experience.