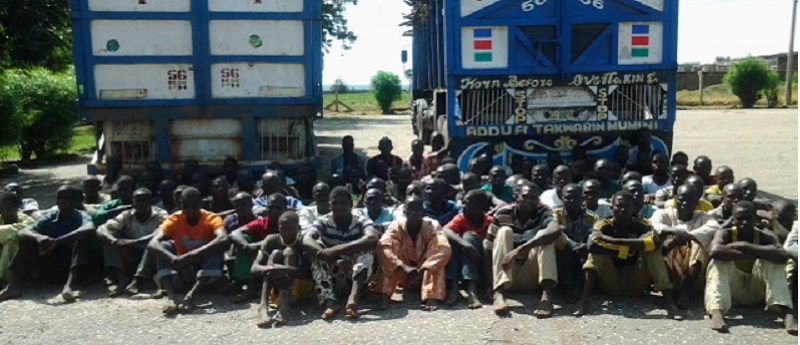 A total of 135 members of a terrorist group, Boko haram, have surrendered to troops around Biu Local Government Area in Borno State.
The spokesman for the military, Major General Chris Olukolade, told reporters on Wednesday that the terrorist also surrendered equipment to the military.
According to him, a group of 88 submitted themselves at Mairiga/Bun-Yadi while another group of 45 terrorists were taken in around Mubi-Michika on Tuesday evening.
They are all being interrogated and processed in conformity with the dictates of standard best practices
He also said that, the Nigerian military, in a counter-terrorism operation, killed one Mohammed Bashir, who has been acting or posing on videos as the deceased Abubakar Shekau, the eccentric character known as the leader of the Boko Haram sect, was killed in a counter-terrorism operation in the north-east.
Major General Olukolade, with the aid of video images, explained that Mr Bashir was killed after members of the terrorist group made not less than four attempts between September 12 and 17 to violate the security strategy and enter Konduga to attack citizens in the area.
"Air and land forces were subsequently deployed to handle the situation.
"The convoy of combat vehicles typical of terrorists' mission that involves their top commanders, were fiercely engaged by the land and air forces. Several of the terrorists including some of their commanders lost their lives in the encounters which lasted an average of about four hours each, leading to the death of the man claiming to be Mr Shekau," he said read.
In a statement, the Defence Headquarters warned that "since the name Shekau had become a brand name for the terrorists' leader, it would remain resolute to serve justice to anyone who assumes that designation or title as well as all terrorists that seek to violate the freedom and territory of Nigeria".
The Defence Headquarters also applauded the gallantry of the Nigerian troops who had remained undaunted and professional in prosecuting the campaign against terror.
It also mentioned that the keen interest exhibited by Nigeria's neighbours and allies had been commendable, reassuring all allies in the war against terrorism of the Nigerian military's resolve to maintain momentum in the efforts to decimate and defeat terrorists.
The military further stressed the need for all Nigerians to be alert, vigilant and cooperate with security forces in the war on terror campaign.