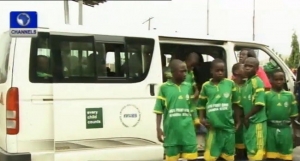 Participating teams for this year's Channels National Kids Cup have started arriving the Teslim Balogun Stadium for the one-week football tournament.
One of Lagos State representative, Uncle Bayus Nursery & Primary School were the first to arrive at the camp. Accompanied by Coach Jaiyeola Damilare, the boys from Ikorodu are hoping for a good outing.
One of the players, Oni Anu, said: "We have promised our teachers that we will win and we have been training hard to make it happen". An elated Anu concluded.
The second team to arrive was Daemm Schools Alakuko also in Lagos.
Daemm will also be hoping for a good tournament after knocking out defending champions Toyibat at the Lagos Preliminaries.
The team arrived without the lead coach, Bankole Olowookere who is attending a coaching course in Abuja and will be led by assistant coaches Sulaimon Hameed and Tobi Omotayo.
The next team to touch down at the Teslim Balogun Stadium was Kwara State. The boys from Focal Point Primary School, New Yidi Road looked fired up and could not wait to find out their opponents. Kwara State also featured at last year's edition but couldn't make it beyond the group stage.
Imo, Ekiti, Ondo and Delta State have also arrived for the grassroots football competition geared towards talent discovery and development at the primary school level.
Kano, Sokoto, Abia, Akwa-Ibom, Kaduna, Niger and Edo state will also feature at the tournament.