Channels Television and Deutsche Welle (DW) have said that a programming collaboration that both broadcast stations signed in June will focus on sharing contents on a platform tagged 'Africa on the move'.  
At live press briefing on Friday held in Lagos, south-west Nigeria, the Director General of DW, Peter Limbourg, said that both stations were collaborating on the platform to share daily service to their audience around the world.
Mr Limbourg said that the programme would also target special people who do special things and are game changers in their environment.
"Channels is a great station and a perfect partner for us and I really want to make you a big compliment for what you have achieved.
"We are very happy to work with you and working with you means not only being partners and visit each other, but also having concrete projects and we have started now.
"We bring the latest news from the German Stock Exchange and as regular service where we get more economic information about Europe and about Germany," he said.
"One Sided Picture Of Africa"
Explaining the focus of 'Africa on the Move', Mr Limbourg stressed that it would report events in Africa from the African perspective with more focus on great things happening in Africa.
"One has to see all the changes which are going on here, what opportunities you have in this great continent and especially in Nigeria, where people have shown a better dedication to make life a better one.
"We do not want to have a one sided picture of Africa.
"I am happy we have a serious Africa on the move," he said.
Mr Limbourg also expressed optimising that sharing of information with Channels Television was a learning process that would have impact on both organisation's broadcast.
The Chairman and Chief Executive Officer of Channels Television, Mr John Momoh, said that the collaboration was a very heart warming one.
"The whole idea is to be able to bring African story, working with DW, to the wider society, to Europe and to the rest of the world.
"This is something that we are starting with DW very soon.
"We hope that this relationship will go a very long way. We have started reaping the fruit and I think, so far, it's been very, very good," Mr Momoh said.
At the event were the Consul General of Germany in Nigeria, Mr Michael Derus, the Vice Chairman of Channels Television, Mrs Sola Momoh, General Manager Operations, Channels TV, Mr Kayode Akintemi, Head of DW International Relations and other delegations from DW and Channels Television.
Channels Television and Deutsche Welle had in June signed the programming agreement in Germany.
More images from the press briefing.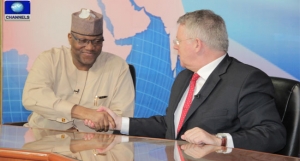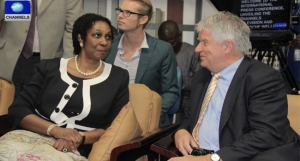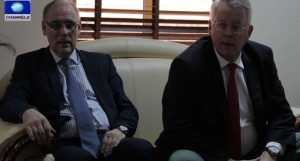 Director General of DW