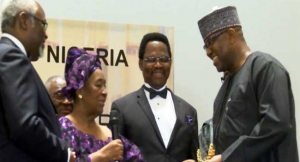 It was a friendly atmosphere as the Institute of Directors (IoD) marked the end of another successful year on Sunday, December 6 with the prestigious IoD dinner at the Eko Hotel and Suites, Lagos.
As explained by the President/Chairman, Mr Samuel Yemi Akeju, it has been a busy year for members of the organisation who for one night every year, come together to honour service to the institute, and excellence in their various establishments.
The Guest of Honour, Chief Phillip Asiodu commended the Directors for keeping the institute alive, asking them to be contributors to the change they want to see in the country.
"We must reintegrate Nigeria amongst the best in the worlds," he said, adding that Nigeria, with its natural and human resources as well as geographical position, has the potential to improve the lives of all black people globally.
The keynote address was by the former Ogun State Governor, Gbenga Daniel. He drew his address from his personal experience doing business in Nigeria which he said is dependent on government and vice versa.
"There is a particular level of synergy expected between government and the organised private sector in order to ensure a positive economic development.
"The duty of government is to provide enabling environment for private businesses so that they will prosper and catalyse the operating environment for a profitable and sustainable economic growth and development," he said.
It was also an evening to honour outstanding members with prestigious awards in various categories. The recipients of the Honorary Fellowship Investiture, include Nigeria's first female lawyer called to the bar, Mrs Folake Solanke, who seized the occasion to restate her belief in the Nigerian constitution.
The Chairman/CEO of Channels Television, Mr John Momoh, received the Entrepreneurial Award in acknowledgement of his contributions to the development of Nigeria from the private sector.
Other recipients are Apostle Fodalile for Good Governance, Mr Jacob Ajekigbe for Director Development and Nestle Nigeria for Corporate Governance.