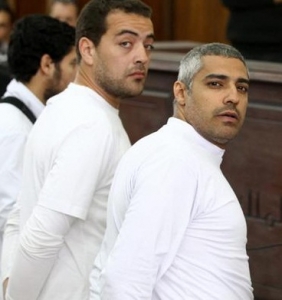 An Egyptian court on Thursday, released two detained Al Jazeera journalists, Mohamed Fahmy and Baher Mohamed on bail.
The judge ordered the release of all defendants at the retrial's opening Thursday.
Mohamed Fahmy and Baher Mohamed who appeared in a court in Cairo for a retrial due to lack of evidence over alleged links to the Egyptian Muslim Brotherhood, according to a source, had been unjustly jailed since December 29, 2013.
Their retrial was ordered by the Court of Cessation January 2015, overturning a lower court's verdict which found them guilty of aiding the outlawed group.
A third Al Jazeera journalist, Peter Greste, who was also to be retried, was deported on February 1 under a presidential decree after spending 400 days in jail. He had since returned to his home in Australia.
"Fahmy and Mohamed have now spent 411 days in prison," a source said.