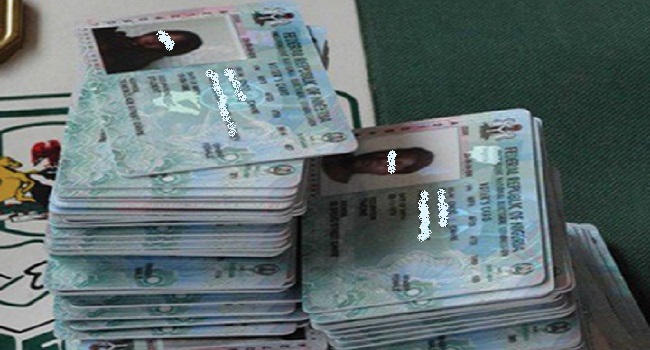 Kaduna State Residents have decried their inability to collect their Permanent Voter Cards (PVC) despite the extension for the distribution exercise by the Independent National Electoral Commission (INEC) to March 8.
Residents in the state had called on INEC to consider the option of using the Temporary Voter Cards in the state to enable them cast their votes during the general elections slated for March 28 and April 11, if they are unable to meet up with the PVC distribution before the deadline.
While expressing their willingness to participate fully in next month's election, the residents expressed fears that denying them the right to vote as a result of not having PVCs, could trigger election violence as witnessed in 2011.
They therefore, called on the INEC to live up to its responsibility by ensuring that all registered voters are given their PVCs before the elections, in order to discharge their civic responsibilities.
Reacting to the development, the Head of Voter Education and Publicity, Kaduna State, Abdullahi Gujungu, told Channels Television, that the commission had so far distributed over 2.8 million permanent voter cards out of the 3.1 million registered voters.
This figure, according to the him, represents about 95 per cent of the total registered voters.
Going by this success, the commission says it is fully prepared for the forthcoming election.
PVC Distribution In Ogun State.
Meanwhile, the Ogun State chapter of the Committee for the Defense of Human Rights passed a vote of no confidence on the Independent National Electoral Commission (INEC) and its leadership against the backdrop of the various challenges facing the distribution of the Permanent Voter Cards in the state.
At a peaceful match held in Abeokuta, the Ogun State capital, to the state headquarters of the electoral body, the Chairman of the Committee, Mr Folarin Olayinka, seized the occasion to demand PVC be distributed to residents without further delay.
Meanwhile, the electoral body in the state has denounced the presence of alien PVCs in Ogun State as alleged by the state Governor, Ibikunle Amosun, during his visit to the commission's office in Abeokuta, last week.
While passing a vote of no confidence on the leadership of the electoral body, the CDHR however, demanded explanation on the alleged fabrication of figures for some state in the north-east under Boko Haram insurgency.
In his response to most of the issues raised, the administrative Secretary of the Commission in the state said 795,962 PVC had been distributed so far, representing 56.7% of registered voters in the state but denied any alien voter card in the state as alleged.
He however, assured residents of the state that the commission is doing the needful to ensure residents have access to the cards before the general elections.