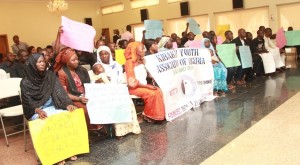 Hundreds of women in Kaduna State on Thursday protested over the abduction of over 200 school girls by Boko Haram members in Chibok, Borno State.
Leader of the women,  Sa'adatu Hama who briefed journalists  shortly after  the protest,  accused the Federal Government of not showing enough seriousness to secure the release of the innocent girls.
The women, comprising Christians and Muslims, gathered at the popular Murtala Mohammed Square in the state capital as early as 10 Am, walked round the Square with placards demanding the immediate release of the girls.
Having walked for about 40-minutes, these aggrieved mothers rolled themselves on the ground, wailing and shouting for the intervention of government for the release of the abducted school girls without delay.
The protest which was originally meant for only women was almost hijacked  by some boys who claimed that they were playing a fatherly role in line with the demands of the protesting mothers.
The Kaduna State Commissioner of Police, Shehu Umar was also on ground to ensure that there was no breakdown of law and order.
Scores of Nigerian women, and a few men, had also protested Wednesday in Abuja to demand the release of over 200 girls kidnapped on April 14 by insurgents believed to be members of the extremist Boko Haram sect.
The women, coordinated by Dr Obi Ezekwesili, Mariam Uwaiz, Saudatu Madi and Hadiza Bala Usman, marched from the Unity Fountain from about 3:30pm, singing to register their anger even as the police guided them to their destination.
They said that the demonstration was to register the agony they are feeling as a result of the abduction of the girls.
They held up placards with inscriptions like; Rescue Our Children, Please Find Our Daughters, Save Our Sisters, Rescue Our Chibok Girls.
Intermittently, they stopped to address the crowd, insisting that not even the rains can stop them until they get to the National Assembly, where the leadership of the National Assembly also defiled the rains to address them.
The Senate President, David Mark, House of Representatives' speaker, Aminu Tambuwal and his deputy, Emeka Ihedioha, addressed the women.
They stressed that the National Assembly had scheduled a meeting with the president to discuss the issue and assured the women that they would do their best to ensure that the girls would be rescued soon.
Moments later the women returned to the take-off point, where they poured out their anger over what they have been through so far following the abduction of the girls.
Some Nigerian men and concerned fathers, including human rights lawyer, Femi Falana, wonder why the authorities are paying lip service to the welfare and security of the citizens.
This is the second demonstration following the perceived inaction by security agencies over the abduction and continued detention of those Nigerian girls.