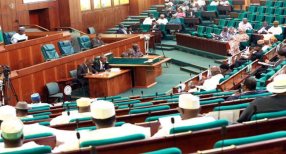 The House of Representatives in Nigeria is requesting for a thorough investigation into the Nigerian Air Force's accidental bombing of a settlement in Rann, a community in Borno State.
In a debate that lasted for about an hour, lawmakers called for a probe of the incident which had caused the death of innocent Nigerians.
At least 50 persons were killed when a military jet dropped a bomb on the settlement. The military said it had received reports that fleeing Boko Haram members were settling in the area.
It was a solemn moment, as the sponsor of the motion, which came as a motion of urgent public importance, Representative Sani Zorro, appealed to the House to set up an ad-hoc committee to visit the scene and assess the situation on ground.
Lawmakers, who contributed to the lengthy debate that followed, described the incident as a sad development that must be investigated.
This resolution enjoyed the support of the House and was approved unanimously.
It was an incident that Nigerians are still coming to terms with, even though the military has said that the incident was a regrettable one.
Several of the injured persons are receiving treatment at different hospitals in the capital city, Maiduguri, with an official of the state government saying 54 of them are in stable condition.
After the debate on the issue, the House resolved to send a 10-man committee to visit the scene and assess the situation on ground.
A minute silence was also observed in honour of those who lost their lives in the incident.
Earlier, President Muhammadu Buhari warned the military to ensure that such an incident would not occur again.
 The Chief of Staff to the president, Abba Kyari, conveyed the president's message when he led a Federal Government delegation on a condolence visit to the Borno state government.
Among the team were the Chief of Staff to the President, Ministers of Defence and Information, the Chief of Defence Staff, the Chief of Army Staff, and the Chief of Air Staff.
Kyari said the visit was initiated by the President, who has condoled with families of victims of the airstrike.