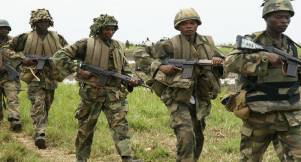 The Nigerian Army has announced plans to commence an operation in Southern Kaduna, as well as parts of Bauchi, Kano and Plateau states, to curtail the activities of herdsmen and armed bandits.
The Chief of Training and Operations, Major General David Ahmadu, who made the disclosure, said that the operation would consolidate on the defeat of the Boko Haram terrorists in North-east Nigeria.
Major General Ahmadu asked residents of the states not to panic in the course of the operation, saying their safety is guaranteed.
He, however, asked them to be conscious of fleeing terrorists who might be seeking refuge in innocent communities.
"Operation 'Harbin Kunama II' is also designed to consolidate on the total defeat and rooting out of the Boko Haram terrorists from these enclaves, particularly the Sambisa forest.
"In this regard, members of the public, particularly the residents of Kano, Kaduna, Plateau and Bauchi states, are enjoined not to panic as their safety and well-being will be guaranteed.
"However, the general public is requested to remain on high alert and be security conscious, as suspected criminals may be fleeing from military operations in these areas to find safe havens amidst innocent communities," Ahmadu said.