Troops of Eight Task Force Division, Nigerian Army, on clearance operations under the auspices of Operation LAFIYA DOLE in Northeast Nigeria had an encounter with Boko Haram terrorists at Chikun Gudu.
During the encounter in northern part of Borno State, the gallant troops neutralised quite a number of the terrorists, while others escaped with gunshot wounds.
According to a statement issued on Saturday by spokesman for the Army, Brigadier General Sani Usman, the troops also captured gun trucks, arms and ammunition, as well as 14 terrorists.
"The troops captured two Toyota Gun trucks stolen from Niger Republic Defence Forces, two Toyota Hilux Gun trucks, one of which was taken by the Boko Haram terrorists from 153 Task Force Battalion location sometime back, a 25 HP Yamaha Outboard Engine, two solar panels and five empty Belts of Anti-Aircraft Guns ammunition links.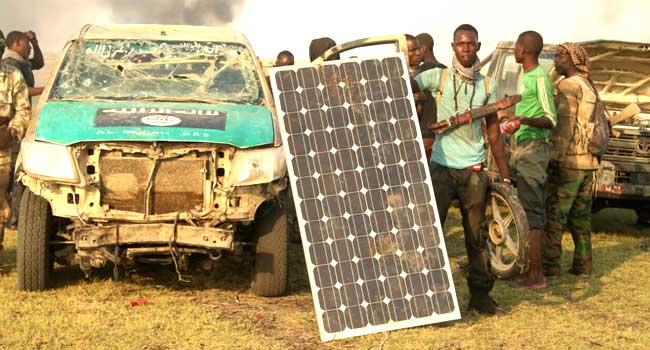 "Others include one Gun bipod, 12 pairs of Boko Haram fighters' uniform, five flags, 37 rounds of 7.62mm (NATO) ammunition, 84 copies of Holy Quran and 270 books on Islamic literature.
"The troops also recovered and destroyed over 70 motorcycles used by the terrorists to launch attacks, three shops stocked with medical supplies, three other shops with provisions and three wooden boats.
"They also recovered two Niger Republic Drivers' Licenses, two mobile telephone handsets and two Wooden Slates," the statement read.
The statement also revealed that four of soldiers were wounded and have been evacuated to a medical facility where they are receiving treatment.