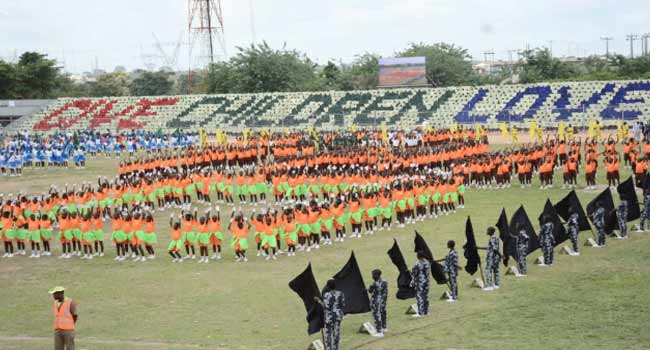 Nigerian children have joined their counterparts all over the world to mark the 2018 children's day celebration.
President Muhammadu Buhari in his children's day message reaffirmed his administration's commitment to the protection and overall welfare of children across the nation.
He said the Children's Day is a day to "reflect on our roles and responsibilities as Parents and Leaders towards our children and assess how far we have fared in this regard."
According to the President, Nigerian leaders are committed to ensuring that children are protected from violence and exploitation. He also noted that the government is committed to creating environments safe enough for them to pursue their educational attainments, discover their full potentials to grow into responsible citizens."
Senate President Bukola Saraki in a series of tweets highlighted some challenges confronting Nigerian children, promising that the Senate is doing all possible to curb them.
The Senate President revealed that Nigeria has one of the highest rate of infant mortality in the world and also has one of the highest number of out-of-school children in the world.
READ ALSO: Governor Ambode Makes Ceremonial Kick-Off At Channels Kids Cup Final
"Nigeria has the highest number of out-of-school children in the world. This is unacceptable — education is the passport to the future of this country. Our vision is to see to the attainment of 100% education rate for all Nigerian children age 12 and below.
"Nigeria has one of the highest rates of infant mortality in the world. Now that we have increased the funding available for basic health care, we hope that we can begin to reverse this narrative.
"We are developing a framework that will address the issues faced by our children covering healthcare, security, education and their welfare," he said.
However, students in Osun State in commemoration of the 2018 Children's Day displayed colourful Calisthenics at the Osogbo stadium in the state capital.
The governor, Rauf Aregbesola assured the children that the state government would continue to give priority to education in the state.
In Edo State, the children assembled at the University of Benin (UNIBEN) Sports Complex and marched in colourful sportswear to the admiration of officials at the event.
Kwara state governor, Abdulfatah Ahmed in his Children's Day address urged parents to spend more time with their children and wards in order to ensure a better society and an assured future for the children.
He said the celebration reminds not only leaders at all levels of the need to prioritise the welfare of every Nigerian child but parents the need to spend more valuable time with children.
Many other Nigerians, however, expressed worry over the fate of the yet to be released Dapchi schoolgirl, Leah Sharibu. With the hashtag #FreeLeahSharibu they express worry in the various post on social media over incessant killings, security challenges and called for the release of the schoolgirl who is currently still in Boko Haram custody.