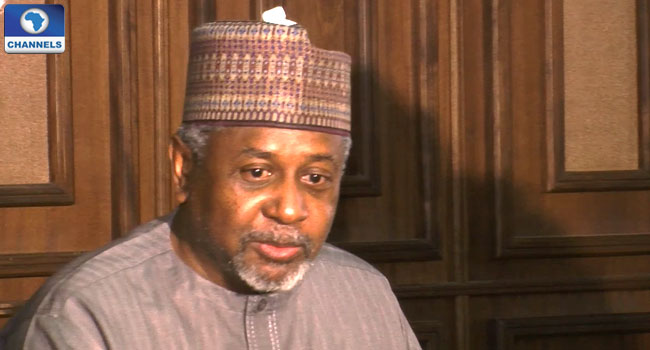 Lawyer to the detained former National Security Adviser, Colonel Sambo Dasuki (rtd), has confirmed that the former NSA has fulfilled all the bail conditions imposed on him by the Federal High Court in Abuja.
Dasuki is on trial over an alleged diversion of $2.1billion arms funds.
His lawyer, Ahmed Raji told Channels Television via a telephone interview that he has the letter by the Deputy Chief Registrar of the Federal High Court confirming that Dasuki had fulfilled all the bail conditions been made available.
Raji noted that this has also been presented to the Attorney-General of the Federation and the Department Of State Services (DSS), which is holding him in custody, for further action on the directives of the court.
READ ALSO: Executive Order 6 Most Potent Tool Against Corruption, Says Lai Mohammed
Justice Ijeoma Ojukwu of the Federal High Court in Abuja had on Monday, July 2 granted bail to Dasuki from the custody of the DSS, where he had been detained for two and a half years, since December 29, 2015.
She ordered that if the DSS want to interview the former NSA in the future, it must be done without detention and on a working day.
This is the sixth bail that will be granted to the former NSA.
Justice Ojukwu granted the former NSA bail in the sum of N200million with two sureties in like sum and ruled that "the long and continued detention" of the applicant since December 29, 2015, could not be justified.