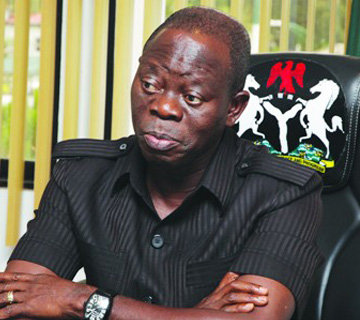 The Governor of Edo State, Adams Oshiomhole, has a contrary view to the perspective of the PDP on the 30 days of President Muhamamdu Buhari in office.
Governor Oshiomhole believes the President has the political will to do better than past governments because of what he perceives as the President's commitment to fashioning out policies and programmes that will impact directly on the lives of average Nigerians.
He said that the assurance of the will of the President to deliver on party's manifestos and campaign promises came after the meeting he and some governors had with the President in Abuja.
The Governor, however, says there "will be no quick fix measures" because Buhari inherited a treasury that is almost empty.
"All the same, he has not come to lament that, but he has come to give a new hope and we are more inspired now," he added.
Mr Oshiomhole has asked Nigerians to be patient with the President and support him in order for him to deliver on the promises he made before and after assuming office.
The PDP, in a statement on Sunday by its Publicity Secretary, Olisa Metuh, had referred to President Buhari's first 30 days in office as "30 days of motion without movement".
The opposition party said that it finds it necessary to pray for the Buhari-led federal government as it is deeply worried that the President, who promised to unveil his cabinet two weeks after his inauguration, has not been able to decide on key appointments such as ministers, Secretary to the Government of the Federation (SGF), a Chief of Staff and advisers in key sectors of the economy.
The PDP believes this is having negative effects on Nigeria's economy.
They also berated the President's handling of the country's anti-terror war.