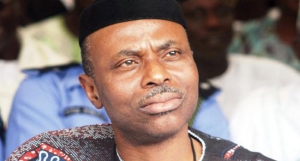 Ondo State Governor, Olusegun Mimiko, has identified road traffic accident across Nigeria as the major killer that has surpassed the effect of cancer, HIV, malaria and Ebola put together.
Mimiko, who stated this in Lokoja during the commissioning of a 1.6 billion Naira Lokoja Mega Terminal project, noted that until government at all level take the issue of transportation services serious, the problem would continue to hunt the nation.
The State Commissioner for Transport, Abdulrahman Wuya, in his opening speech, said that the idea behind the terminal is to consolidate all the major inter-city and inter-state motor parks, in order to bring sanity to the unregulated transport system in the state.
Giving his address, Governor Mimiko praised Governor Wada for early completion of the project in the face of paucity of fund.
He also commended Wada for prudent management of resources in the state, while he described the Lokoja Terminal Project as the best in Africa.
While speaking, Governor Wada said that the project was conceived to eliminate the incessant traffic logjam and to take Kogi from economic doldrums, stressing that the project is capable of generating enormous revenue for the state.