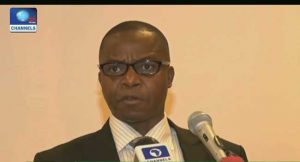 The Office of the National Security Adviser (ONSA) has embarked on sensitisation for the implementation of the National Counter-Terrorism Strategy across Nigerian states.
The ONSA says the sensitisation was part of measures to enhance the Federal Government's onslaught against insurgency.
Speaking at the launch of the National Sensitisation Workshop in Jos, the Plateau State capital in north-central Nigeria, the Coordinator of Counter-Terrorism Centre (CTC) at the ONSA, Commodore Yem Musa, said that the fight against terror should not be left with the government alone.
He said that it should involve every Nigerian, which is the reason they were involving the citizenry in a united action.
Commodore Musa said that the programme, which was first in the series, is to consciously awaken the people on the need for a collective approach, as well as blend with security professionalism and government agency collaboration.
He explained that it involves civil relations in sustaining the successes achieved so far in the fight against terror.
Musa informed the audience that the sensitisation programme was not limited to states alone, but would also involve local government areas, organised private sector and the public.
The Plateau State Governor, Simon Lalong, who declared the workshop open, recounted government's efforts in prosecuting the war against terrorism.
He expressed joy that the effort has been yielding positive results with the recent military onslaught on the terrorists' stronghold.
The event was attended by security operatives, civil servants as well as civil society organisations and non-governmental organisations from Plateau, Nasarawa, Bauchi and Gombe states.