In the ever-evolving world of technology, a Chemical Engineering student, Julia Romer, has created a refrigerator that runs on warm water as opposed to electricity.
The innovation which she came up with together with her team, is one that requires neither grease nor freezing agent.
Julia who is a student at the Technical University of Berlin, said although her idea was technology-driven, it is also mission-driven.
She explained that the project which her company, 'Coolar', had been working on for about two years, was to be powered by heat instead of electricity and could help preserve medication.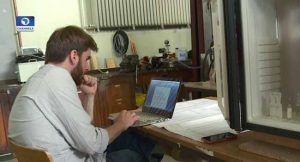 "We are highly focusing on regions that don't have access to electricity because they need to cool down medicine.
"We tested our technology with this small fridge prototype and we would soon advance to creating bigger ones.
The project comes in good time and can be a life-saver, as over 1.2 billion people worldwide have been said to have no access to electricity while international health organisations working in big camps, are looking for alternatives.