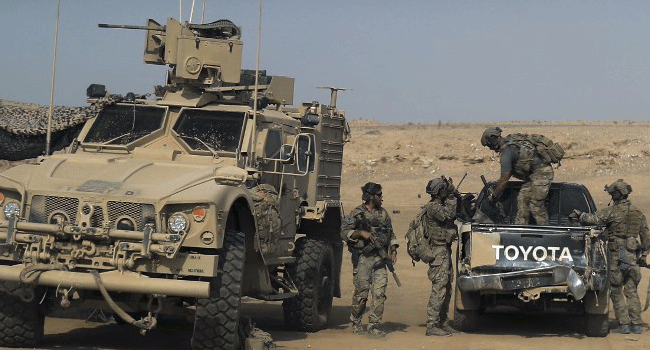 Britain and German have reacted to recent reports that President Donald Trump has ordered the withdrawal of US troops in Syria. 
On Thursday, Britain said that it remained committed to the fight against the Islamic State group.
"The global coalition against Daesh has made huge progress, but much remains to be done and we must not lose sight of the threat they pose," Prime Minister Theresa May's spokesman said, using an alternative name for IS.
"Even without territory, Daesh will remain a threat.
"We remain committed to the global coalition and the campaign to deny Daesh territory and ensure its enduring defeat, working alongside our critical regional partners in Syria and beyond."
Repeating a statement issued by the Foreign Office late Wednesday, he said: "This government will continue to do what is necessary to protect the British people and our allies and partners."
Media reports suggested London was not given advance notice of the pull-out.
But the spokesman said: "We have been in discussion with our US partners on this for a number of days."
British Foreign Secretary Jeremy Hunt spoke to US Secretary of State Mike Pompeo on the issue late Wednesday.
Junior defence minister Tobias Ellwood had contradicted Trump on Wednesday, retweeting his message that the jihadists had been defeated in Syria with the words: "I strongly disagree.
"It has morphed into other forms of extremism and the threat is very much alive."
The US Pulling Out Will Revive ISIS – Germany
Germany warned Thursday that US President Donald Trump's decision to pull troops out of Syria could endanger a battle against Islamic State militants and jeopardise achievements on the front.
"The IS has been pushed back, but the threat is not over. There is a danger that the consequences of (Trump's) decision could hurt the fight against the IS and endanger what has been achieved," said German Foreign Minister Heiko Maas in a statement.
The battle against the Islamist militants would be "decided in the long run — militarily and with civilian means", said Maas.
The foreign minister stressed the need for a political process under the auspices of the United Nations, in order to bring lasting stability back to war-torn Syria.
US Does Not Want To Be Middle East Police – Trump
The United States does not want to be the "Policeman" of the Middle East," US President Donald Trump tweeted Thursday, defending his controversial decision to pull US forces out of Syria.
"Does the USA want to be the Policeman of the Middle East, getting NOTHING but spending precious lives and trillions of dollars protecting others who, in almost all cases, do not appreciate what we are doing? Do we want to be there forever? Time for others to finally fight….." he tweeted.
Trump declared on Wednesday that IS had been "beaten" in Syria and announced the pullout of US ground forces from the war-ravaged nation.
Currently, about 2,000 US forces are in Syria, most of them on a train-and-advise mission to support local forces fighting IS.
The Pentagon refused to say what effect the troop withdrawal would have on air operations in Syria that have been ongoing since late 2014.