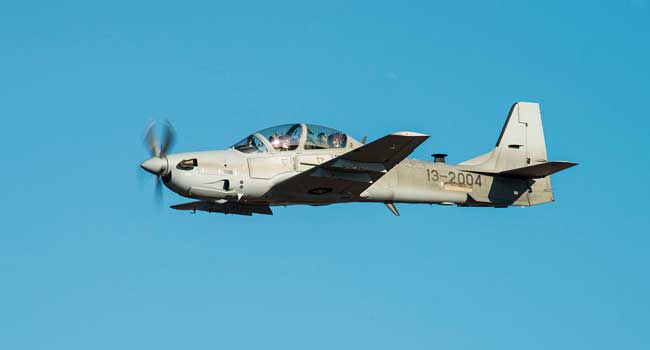 The United States has okayed the sale of 12 Embraer A-29 Super Tucano aircraft to Nigeria.
This follows the promise made by U.S. President Donald Trump to President Muhammadu Buhari earlier this year that he would support Nigeria in its fight against terrorism.
The Associated Press reported that the State Department notified the U.S. Congress on Wednesday about the plan, adding that Congress is expected to okay the move.
According to the report, officials briefed on the matter said the aircraft will be sold to Nigeria by the Sierra Nevada Corp.
The Embraer Super Tucano is said to be a light attack aircraft designed for counter-insurgency, close air support, and aerial reconnaissance missions in low-threat environments.
Nigeria has been trying to acquire high-tech planes for a while now. Efforts to purchase the planes from the U.S. failed as a result of concerns about alleged human rights abuses by the Nigerian military.
Following the bombing of the Internally Displaced Persons Camp in Rann on January 17, Barack Obama, who was President at the time suspended the planned sale.
Trump, however, revived the deal as part of his plan to arm countries to fight terrorism.
News of the plan comes about three weeks after the U.S. State Department in a report to Congress expressed concern over what it said is the inability of the Nigerian military to secure territories recaptured from Boko Haram insurgents.
It also comes amid a resurgence in attacks by Boko Haram terrorists. On July 25, the insurgents had ambushed oil workers in Borno killing over 40 persons including troops and abducting some lecturers from the University of Maiduguri.
The sale is, however, expected to motivate the military, while also equipping them to better deal with the insurgents who are also seeking new ways to spread terror and who are still holding hundreds captive.