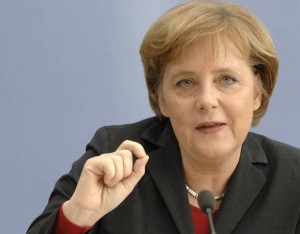 German Chancellor, Angela Merkel, urged Russian President, Vladimir Putin, on Wednesday to help stem violence in eastern Ukraine, saying the West will not hesitate to impose stricter economic sanctions on Russia "if it fails to cooperate".
Speaking ahead of a summit of the Group of Seven major industrialised nations, a meeting Russia was supposed to host but has been excluded from because of its seizure of Crimea, Merkel presented Putin with a straight choice.
"It is decisive that President Putin use his influence to get the separatists to refrain from violence and intimidation," she told the German parliament, referring to Russia-allied militants fighting in eastern Ukraine. "If this doesn't happen … we won't shrink from imposing further sanctions."
The United States and European Union have imposed travel bans and asset freezes on dozens of Russian and Crimean officials since the annexation of the Ukrainian peninsula in March, but have not yet moved to more severe economic sanctions.
Those were threatened if Russia took further steps to destabilise Ukraine.
With elections having gone smoothly, and new President Petro Poroshenko to be sworn in on Saturday, some have concluded that Putin has stepped back from the brink.
A draft of the G7 communique seen by Reuters calls on Russia to "accelerate withdrawal of military forces from the eastern border with Ukraine" and "exercise its influence among armed separatists to lay down their weapons".
President Barack Obama met Poroshenko for talks in Warsaw on Wednesday and declared him a "wise choice" to lead Ukraine.
Poroshenko, a chocolate-industry billionaire, said he would be willing to meet with Putin on the sidelines of the D-Day anniversary commemorations in Normandy, France on Thursday, although no meeting has been set up.
"As things stand now, a meeting between me and Putin is not envisaged, but I do not rule out that it could take place in one format or another," he told reporters.
He further said he was working on a peace plan for Ukraine that would involve the decentralisation of power, local elections and an amnesty.
Tensions on Europe's eastern frontier will be the focus of discussion among G7 leaders over dinner, including how best to support Poroshenko and Ukraine's shattered economy.
The threat of imposing further costs on Russia if necessary will be kept on the table.
With the United States having broadly taken a firmer line against Russia than Europe, which has critical energy ties with Moscow, U.S. officials said the key was for the West to maintain a united front, an issue Obama raised with Poroshenko.
"They discussed the need for the international community to continue to speak with one voice on the subject of Ukraine," said Ben Rhodes, Obama's deputy national security adviser.
While Putin has been cut out of the G7, he will hold face-to-face meetings with Merkel, French President Francois Hollande and Britain's David Cameron at the D-Day anniversary, potentially an opportunity to work on those who oppose him.
Rhodes said it wasn't important that Putin was holding the meetings but "what people say in those meetings".
Ahead of the summit – the first without Russia since it joined the G7 in 1997 – officials said they were not yet ready to conclude Moscow was playing a more cooperative role.
"It is up to Russia to behave in line with international law and the values that are G8 values," said one official when asked if Russia could rejoin the G8 at some point soon. "It's a bit early at this stage, but I wouldn't rule out the heads of state discussing how they see the future of the G7 or the G8."
Russia denies it is behind the revolt in eastern Ukraine, where militias allied to Moscow have seized buildings, attacked Ukrainian troops and declared independence. Putin has also defended his right to protect Russian-speaking people.