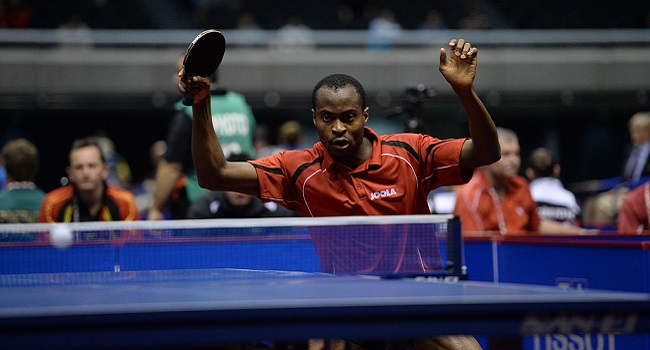 Nigeria's Aruna Quadri has moved from 56 to 43 in the September world rankings released on Wednesday by the International Table Tennis Federation (ITTF).
Quadri's return to the top was made possible following his scintillating performance at the last Czech Open where he defeated top seeded players from Japan and Germany.
In the ranking, Quadri is among the most active players, having garnered 54 points from his performance to rise to 43.
When Quadri was at 56th place in August, he had 2204 points, but moves to 43rd with 2262 points. He trails Egypt's Omar Assar,  who dropped from 30 to 36, following his second round exit at the Czech Open last week.
Meanwhile, Quadri is hoping for a better outting in his second appearance at the African Games in Congo Brazzaville.
"I am hoping for the best at the African Games because this is going to be second games for me and I will be very happy if I can do so much better than what I did in 2011.
"Also most important for me is to qualify for the 2016 Olympic Games in Brazil," he said.
He however expressed optimism on Nigeria's overall chance in table tennis, adding that with the newly-appointed German coach, the needed technical input would be available for the team.
"I think nothing is impossible for Team Nigeria in Brazzaville because we have been preparing in the last two months and I seriously believe that this preparation is enough to conquer Africa.
"In short, we have bright chance of winning more medals than any team and I am sure Nigeria will surprise everyone in all events as we are capable of emerging as overall champion," Quadri added.
He admitted that it would not be an easy challenge for Nigeria as teams like Egypt, Congo Brazzaville and Algeria are equally good.
"It is going to be very difficult for all teams because the standard is really improving in Africa and for this reason I am expecting a tougher challenge from all participants.
"I think it is going to be very difficult for Egypt to dominate as Nigeria is fully ready for the big war in Brazzaville".
The 11th edition of the African Games will begin on Thursday, September 4 2015 and team Nigeria will be hoping to impress in table tennis.