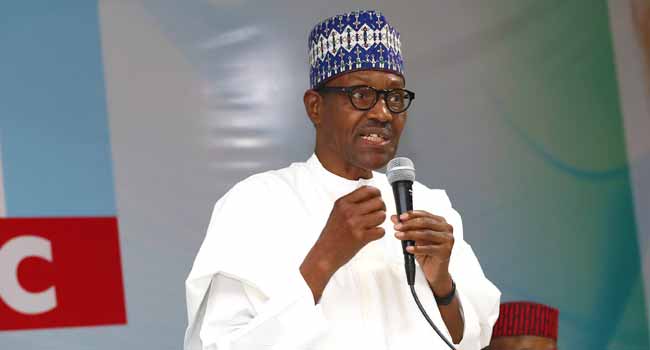 President Muhammadu Buhari has asked Nigerians to continue to pray for the safe return of the remaining Chibok girls, and others in Boko Haram captivity.
The president made the request in his Easter message to Nigerians on Thursday, one month and 10 days after the terrorists who abducted schoolgirls from Chibok in 2014, snatched 110 schoolgirls from a secondary school in Dapchi, Yobe State.
Five of the Dapchi girls had died in captivity, 104 of them were freed on March 21 and reunited with their parents on Sunday. However, the terrorists held one, Leah Sharibu, back; allegedly because she refused to renounce her Christian faith.
Her fate has remained a source of worry with many calling for her release.
President Buhari is thankful for the release of Leah's schoolmates and is hopeful that all those still in captivity would also regain their freedom. He, however, believes the prayers of Nigerians would help.
"I am very optimistic that all others, including the Chibok girls who are still in captivity, will be safely released unconditionally to their families. I urge you to continue to pray for their safe return," he said in a statement.
The abduction of the schoolgirls had raised concerns about the safety of schools, especially in the North East which is the hotbed of the Boko Haram insurgency.
To ensure such an incident does not occur again, the President said security agencies have been given directives to protect schools.
"I have given clear instructions to our security agencies to prioritise safety in schools in areas where the humanitarian and security situation are still dire, in addition to ensuring adequate protection of Internally Displaced Persons (IDPs)," President Buhari said.
With the 2019 elections less than a year away, President Buhari also used his Easter message to call on politicians to be law abiding.
He said, "As we approach the period of campaigns, I appeal to our political actors and other stakeholders to resist any act that could mar the integrity of our electoral process.
"I am optimistic that with God on our side, the dark days of Nigeria's elections being manipulated by violence and rigging by corrupt politicians and their agents are over.
"They are confined to the dustbin of history where they rightly belong. I remain committed to bequeathing a legacy of supremacy of the people's will through the ballot box."