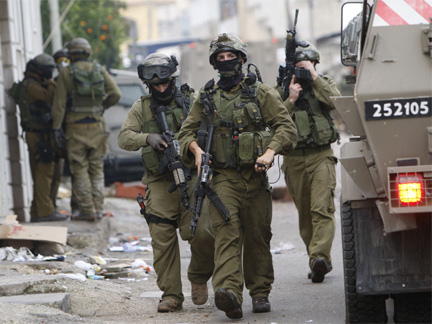 The ranging war between Palestine and Israel continues as Israel launched an airstrike outside a family home early Saturday which pushed the Palestinian death toll past 100 in four days of cross-border fighting and Israel has  showed no sign of pausing back despite international pressure to negotiate a ceasefire with the militants.
The Israeli Prime Minister, Benjamin Netanyahu said they are weighing the possibilities of ceasing fire and preparing for all possibilities.
He however said, "No international pressure will prevent us from acting with all power," he told reporters in Tel Aviv a day after a telephone conversation with U.S. President Barack Obama about the worst flare-up in Israeli-Palestinian violence in almost two years.
On Friday, Washington affirmed Israel's right to defend itself in a statement from the Pentagon. But Defence Secretary Chuck Hagel told Israeli Defence Minister Moshe Ya'alon that he was concerned "about the risk of further escalation and emphasized the need for all sides to do everything they can to protect civilian lives and restore calm."
As the fight intensifies, the airstrike launched by Israel has killed five youths and wounded 15 people outside a family home in the J abalya refugee camp in the northern Gaza Strip on Saturday.
The number of casualties continue to swell up as a rocket fired has  wounded one person and injured another seven Israelis when a fuel tanker was targeted at a service station in Ashdod north of Gaza.
In the wake of attacks, the Palestinian militants has issued a stern warning to international airlines to keep off Tel Aviv's main airport as they might fire rockets.
Meanwhile, the medical officers in Gaza said the bombardments that Israel began on Tuesday,  has left over 106 killed including 75 civilians and 23 children.