The Joint Task Force (JTF) in Borno State has launched attacks on two separate camps allegedly belonging to Boko Haram members in the state, killing 17 of the sect members.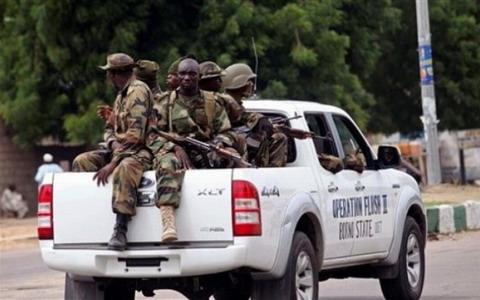 A statement issued on Friday in Maiduguri, the Borno State capital by the JTF spokesperson, Lieutenant Colonel Sagir Musa, revealed that the two special operations supported by the Nigerian Air force Helicopter gunship were aimed at dislodging Boko Haram members from their hideouts.
The operations were carried out in Sambisa Game Reserve of Bama Local Government Area and the Farin-Ruwa forest in the south-west/east of Demboa Local Government Areas of the state.
A member of the JTF was reportedly killed during the operations which lasted between Wednesday and Thursday 30th and 31st of January 2013.
According to the statement, the fundamentalists had training facilities, armoury, accommodation, drug/medical store, kitchen, vehicle holding area, and latrine as well as water point on the camps.
The camps were said to have been used to conduct trainings before carrying out recent attacks, killings and bombings in Maiduguri, Musari, Konduga, Biu, Bama, and Demboa communities.
Efforts by JTF troops to destroy the camps led to the death of the 18 people as the camps were completely destroyed and are now being monitored by the troops.
The statement also reveals that six AK 47 rifles, two G3 rifles, three pistols, one Rocket Propelled Grenade (RPG) and 20 RPG charges were recovered from the areas.
Others items recovered include:  two double barrel rifles, 2,543 assorted rounds of ammunition, 33 assorted magazines, three laptops, 10 assorted Motorola walker talkies, 20 telephone handsets , 40 assorted prime IED canisters as well as a generator set.
The statement urged the public to continue to partner with the JTF by giving useful and timely information in the search for lasting peace in the state and the country at large.
JTF claimed it can be reached on 08064174066, 08154429346 and 07064174066.
The operation is coming two days after the some Boko Haram members called for a ceasefire that will end the hardship faced by women and children in its insurgency.
They also asked for the reconstruction of the destroyed mosque of their former leader, Mohammed Yusuf as well as the release of detained members of the sect in various prisons across the country.