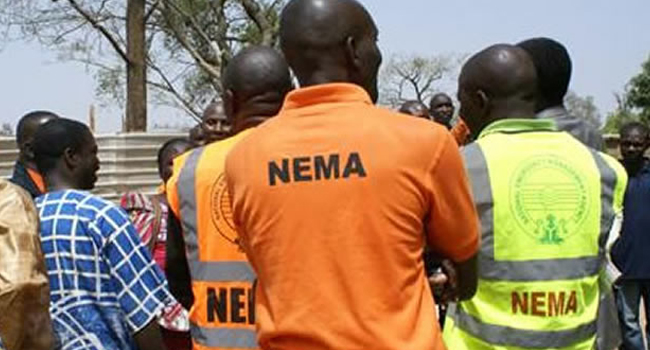 The National Emergency Management Agency (NEMA) has distributed drugs and medical items worth millions of naira to various hospitals where the May 31 victims of petrol tanker fire accident have been on admission.
This is coming on the heels of the visit of the Nigerian Vice President, Professor Yemi Osinbajo, to Onitsha to condole with Anambra State Government over the accident that claimed many lives and to assess the extent of damage.
The delegation's first visit was the General Hospital Onitsha where they released to the Medical Director, various medical items including drugs. They also visited Menax Hospital, Onitsha, where a huge quantity of drugs and medical items were also donated.
At Toronto Hospital in Upper Iweka, where majority of both the living and dead victims were housed, the Chief Medical Director, Dr. Emeka Ezeh, took the delegation round to see some of the victims who were recovering. This was after he had also received drugs and medical items worth thousands of naira.
Leading the delegation to Onitsha, was the representative of the Director-General of NEMA and also Director of Relief and Rehabilitation, Mr. Ezeh Udemezue, who commended Dr. Ezeh for his effort during the emergency situation.
He expressed hope that the items donated would greatly support the efforts of the hospitals and ensure the speedy recovery of victims.
In Response, Dr Ezeh said that all the doctors and hospitals involved in the emergency situation were encouraged by the gesture from the Federal Government which indicated that they were not alone in the humanitarian service of saving lives.
The entourage also went to the Governor's Lodge in Awka to pay Governor Willie Obiano a courtesy call and to interact with him on issues concerning emergency.
Obiano commended their efforts but added that the federal government should assist further in working out the rehabilitation process for the orphaned and other people critically affected by the incident.
On May 31, a tanker laden with petrol lost control of its brakes and rammed into a park at Upper Iweka in Onitsha and on explosion killed several people and left many badly burnt.