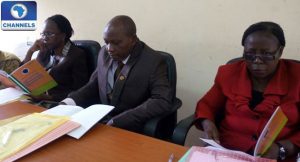 The Pharmacists Council of Nigeria (PCN) has cautioned patent medicine vendors against prescribing and selling drugs outside the approved list given to them and also stay away from injecting their customers.
It says it will not relent in ensuring that the violators are punished.
The Registrar of the Council, Nae Mohammed, gave the warning on Wednesday in Osogbo, the capital of Osun State at the opening of the orientation course for 110 newly licenced patent medicine vendors.
Mr Mohammed, who was represented by the Director, South West Zonal Office of the PCN, Mrs Yejide Oseni, said the council would not relent in ensuring that the unwholesome practices by medicine vendors were stopped.
He urged the vendors not to violate any of the laws put in place to regulate their practice.
"Anyone caught would be dealt with according to the law," he said.
A Criminal Offence
Mr Mohammed also promised that the medicine vendors would be protected from being harassed by some government agencies, but urged them not to go outside the guidelines regulating their practice.
"The PCN has received reports across the country, of harassment of vendors by some government agencies.
"The registry has initiated talks with some of the government agencies, with the aim of ensuring that patent and proprietary medicine vendor licence holders are protected from every form of harassment from any agency provided they abide by the list, display their licence and signpost," he told the vendors.
Also addressing the gathering, the Director, Pharmaceutical Services at the Osun State Ministry of Health, Mrs Adepeju Ojo, advised the vendors to always get their drugs from licensed pharmaceutical outlets.
Mrs Ojo said they would be able to assist in tracing the source of such drugs in case they were found to be substandard or expired.
She urged them to be law abiding and to renew their licences every year while also appealing to them not to sell drugs outside their lists.
Ojo said that the licence of any vendor that violates the law may be revoked.
"Don't prescribe drugs to anybody. Don't inject them. Don't even treat wound. You have not been trained to do these. If you go against the law, your shops will be sealed.
"It is a criminal offence for you to break the Federal Government's seal. If your shop is sealed, liaise with the PCN office and they will tell you what to do. If you break the seal, you may be prosecuted," she warned.