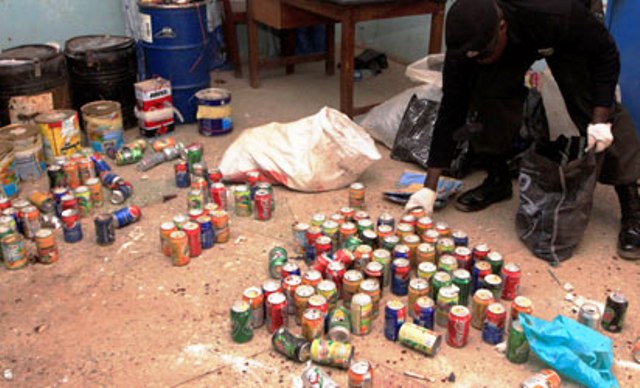 The Joint Task Force in Kano state North West Nigeria has discovered a bomb factory at an isolated part of Tamburawa Bridge –an outskirt of Kano city. Three people suspected to be terrorists were arrested during the early morning raid by JTF in the area today.
Speaking to newsmen, the Director State Security Services in Kano Bassey Eteng said that a pre-emptive raid was carried out this morning at about 6am by the JTF and the operation was successful.
According to the director, most of the items recovered at the factory were likely to be used by the terrorists to launch an attack on Salah day but the intelligence report that was at the disposal of the security agency truncated the anticipated attacks.
Items recovered includes eight AK47 magazine, one SMG magazine, one SMG rifle, twelve primed IED, nine un primed IED, high calibre IED, assorted army uniform, chemicals used to make the bomb and six hundred and thirteen rounds of ammunition.
Meanwhile the director says there was no casualty of either party during the operations while stressing investigation will continue to uncover the hide out of any suspected terrorist across the state.