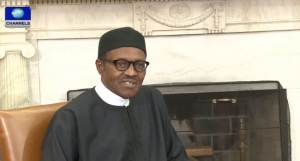 President Muhammadu Buhari will on Monday hold a meeting with members of the All Progressives Congress (APC) in the House of Representatives.
The Senior Special Assistant to the President on Media and Publicity, Mr Garba Shehu, confirmed the proposed meeting to reporters on Sunday.
According to Mr Shehu, the meeting will hold by 5:00pm at the new Banquet Hall of the Presidential Villa in Abuja, Nigeria's capital.
There has been internal wrangling in the House of Representatives over the choice of its principal officers and efforts to resolve the issue have so far not yielded remarkable result.
On Saturday, some members of the APC, who are opposing the choice of the Speaker of the House, Yakubu Dogara, said they had decided to accept the Speaker's proposed list of principal officers.
Although the agenda of the meeting was not made known to reporters, there are speculations that the controversy in the choice of principal officers would be addressed.