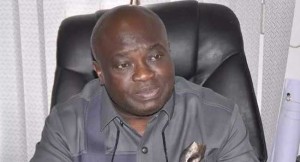 The Abia State Governor, Okezie Ikpeazu has challenged members of the Abia State chapter of the Inter-Party Advisory Council (IPAC) to join forces with his government to develop the state.
Ikpeazu made request at the Government House, Umuahia, when he received members of the Inter-Party Advisory Council.
The Governor expressed shock that IPAC has not been getting on well with the Abia State Independent Electoral Commission (ABSIEC) and promised to engage the chairman of the commission to carry them along in their activities.
Ikpeazu promised to provide subvention to all the parties involved in the December local government polls as well as encourage women to participate in the elections.
He regretted that the desperation of some politicians has adversely affected the ideals of democracy in the state.
"My view on the use of transition committee chairmen in running the local governments is that it is definitely playing a negative role in deepening democracy in the country.
"And Abia State has lost a lot in terms of experience in the last 10 years that elections have not been conducted into the councils. Therefore, the decision to embark on local government election is the right thing to do.
"As stakeholders you have a lot to contribute towards the development of the state, which will lag behind except there is peaceful coexistence.
"I appreciate this delegation for the sentiments towards the development of the state and in my capacity as your governor I promised to assist you. This is because this administration's policy is to engage strategic and critical stakeholders from time to time," the Governor said.
Meanwhile, the chairman, Inter-Party Advisory Council, Emeka Okafor, pleaded with the Governor to prevail on the chairman of Abia State Electoral Commission to drastically reduce the fees payable by the political party aspirants to enable them participate actively in the December 17, 2016, local government elections.
He said: "We are here to identify with you, our governor on the good works you are doing in the state.
"The duty of the Inter-Party Advisory Council is to work with the Abia State Independent Electoral Commission to enthrone fairness, objectivity in the electoral process.
"We are optimistic that the desire of all Abians to ensure their votes count during the LG Polls would be a reality."
On his part, state chairman of the All Progressives Congress (APC), Donatus Nwankpa, promised the Governor that APC in the state would ensue peace and nonviolent polls.
"Abia State is our own. All we need is credibility on the part of the electoral umpire in the conduct of the local government election.
"We thank you, Governor Ikpeazu, for the promise to urge the ABSIEC Chairman to reduce the fees payable by parties, it would go a long way to resolve a lot of issues," he said.