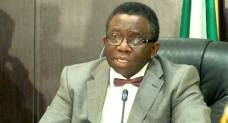 The Federal Government has renewed its commitment to eliminating tuberculosis by year 2035, as part of efforts to ensure a healthy society.
The Minister of Health, Professor Isaac Adewole, stated this on Friday at an event in Abuja to mark the World Tuberculosis Day.
Professor Adewole, who commemorated the day with the commissioning of a laboratory, stated government's resolve to join the League of Nations without tuberculosis.
The Minister of State for Health, Dr. Osagie Ehanire, also highlighted the successes recorded by government, in spite of the challenges of tuberculosis in Nigeria.
Health experts at the event, Ineke Huitema and Dr. Han Kang, stressed the need for a collective fight against the disease.
They also advised the public to visit the nearest health facility to get tested and treated for free.
Statistics from the World Health Organisation indicate an estimated 10.4 million new cases of tuberculosis worldwide in 2015.
A further breakdown reveals that of the estimated figure, 5.9 million (56%) are men, 3.5 million (34%) are women while 1.0 million (10%) are children. People living with HIV account for 1.2 million (11%) of all new tuberculosis cases.
In order of global ranking, countries with the highest burden of the disease are India, Indonesia, China, Nigeria, Pakistan and South Africa.
Experts say that with an estimated 1.4 million tuberculosis deaths in 2015, and an additional 0.4 million deaths resulting from the disease among people living with HIV, the disease appears to be advancing into an epidemic.