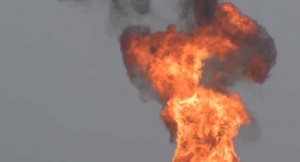 An evacuation order has been issued for an area home to more than 82,000 people in Southern California after a huge inferno broke out in a drought-ravaged mountain pass on Tuesday.
A day after its ignition in the mountains, the fire, which has been described by some as the most ferocious wildfire they have ever seen, had spread across nearly 47 square miles.
Officials say the flames have advanced and is out of control, despite the efforts of 1,300 firefighters.
"There will be a lot of families that come home to nothing," San Bernardino County Fire Chief, Mark Hartwig told BBC.
"It hit hard. It hit fast. It hit with an intensity that we hadn't seen before," he added.
According to Reuters, two firefighters were trapped by flames in the effort to evacuate residents and defend homes, but managed to escape with only minor injuries.
Authorities have been unable to say how many homes have been destroyed, but some fear it will be in the hundreds.
Investigations are still ongoing on the cause of the fire, as it has destroyed homes and disrupted transport links between California and Nevada.