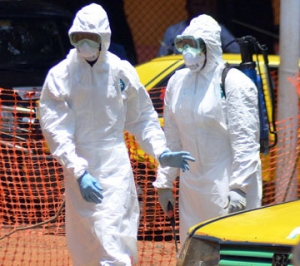 The Nigerian Medical Association, (NMA) has advised both the Federal and State Governments to focus more of their enlightenment campaign on the Ebola Virus disease on rural communities rather than concentrating on the urban areas.
The Kaduna State branch of the association, which has been on strike since July 1, said that the advice had become imperative giving the fact that "majority of the rural dwellers eat more bush meat than their urban counterparts" and on the fact that they were also not aware of the risks the disease posed.
At a press briefing in Kaduna on Saturday, the State NMA Chairman, Dr. Mohammed Ibrahim, debunked rumours of an outbreak of the deadly Ebola Virus Disease in the state since Thursday.
Dr. Ibrahim expressed dissatisfaction with the Federal Government's insurance cover for health workers who are attending to victims of Ebola and the level of preparedness shown so far by both the Federal and the 36 States Governments.
He, however, advised the residents to always confirm any issue relating to the Ebola case from health personnel instead of relying on rumour while at the same time urging them to adopt measures of protecting themselves from contracting the virus.
Mr Ibrahim reiterated the willingness of his members to attend to any case of Ebola outbreak or any other emergency situation in the state despite the ongoing strike by medical doctors across the country.
On July 1, the leadership of the association asked all members to down tools, after the Federal Government failed to address their 24-point demand.
The association is, among other things, demanding the stoppage of the appointment of non-doctors as directors and consultants.
They are also demanding the immediate passage of the National Health Bill, appointment of a Surgeon-General of the Federation, the payment of 100,000 Naira hazard allowance for medical doctors and the skipping of level 12 by medical and dental practitioners.
The association had in June addressed a news conference at the Federal Capital Territory, Abuja, where it advised the Federal Government to urgently address its demands or be prepared for the indefinite strike with effect from July 1.
President Goodluck Jonathan on Friday declared a national emergency on Ebola, stressing the need for all Nigerians to support the government's efforts to check the spread of the virus.
In a statement by the spokesman for the President, Ruben Abati, President Jonathan urged medical workers and other health professionals to regard the declaration of the National Emergency as a patriotic call to duty and service.