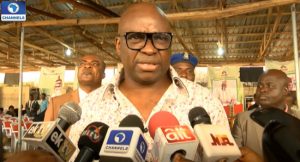 The Ekiti State Governor, Ayodele Fayose, on Monday, declared his support for total autonomy of the third tier of government, calling on other governors to follow same in bringing development to the grassroots.
The Governor also pardoned a local government staff and Deputy President of the Nigerian Union of Local Government Employees (NULGE) in Ekiti State, O.B. Olatunde, who was dismissed from service for alleged rudeness to the governor over salary crisis.
The affected LG staff was alleged to have rudely addressed the Governor when a directive was given on how certain money should be disbursed being recommended by the State Joint Allocation Committee.
Fayose gave the indication after meeting with the NULGE's reconciliation delegation led by its National President, Ibrahim Khaleel, in Ado Ekiti, the state capital, to appeal to the Governor to rescind his pronouncement on the erring staff.
Fayose, while briefing the delegation said: "There should be a government that the people at the grassroots can refer to as their own. When you cede the LGs to the people, then nobody can blame a governor for the inefficiency at that level.
"I want to appeal to my colleagues to embrace total autonomy to all the 774 LGs in this country", he said.
On the punishment meted out to the Deputy President, Fayose said: "I have decided to shift ground on this matter, after the recommendation of the committee because of the swift way Mr. Khaleel handled the matter. Unionism is not always about confrontation, but about respect and reconciliation".
"I want to commend the NULGE delegation for the show of solidarity and I want to tell you that rather than dismissal, the government will look for alternative punishment to serve".
Mr. Khaleel, who described Fayose as the "voice of the voiceless", said: "I decided to honour Governor Fayose because I saw him as part of this fold, He is a comrade governor because he represents the voice of the voiceless in Nigeria.
"In the recent time, Governor Fayose has been speaking for the commoners. He has been fighting their courses and he deserves our respect. I want to thank the governor for this mutual respect and I want to assure you that your relationship with the LG staff will remain intact'.