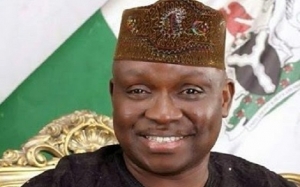 Reports say there has been a protest in Ado Ekiti, the Ekiti State capital, against the House of Assembly's plot to impeach the State Governor, Mr. Ayodele Fayose, over alleged constitutional breaches.
Heavy security has been put in place in strategic locations in Ado Ekiti, while entry routes have been blocked and taken over by security operatives.
The political drama in Ekiti State continues as the supporters of the Peoples Democratic Party (PDP) in the state were prevented by the Police from gaining access to the State House of Assembly.
The PDP supporters, led by the Deputy Governor and a former Speaker of the House Of Assembly who claimed to be on a campaign, were said to have moved to prevent the 19 lawmakers of the All Progressives Congress (APC) from performing their legislative duties.
But the Commissioner of Police, Ekiti State Command, Taiwo Lakanu, said that his men intervened to prevent a breakdown of law and order.
The leadership of the Peoples Democratic Party, PDP, had condemned what the party calls an emerging height of political recklessness in the state.
The PDP National Publicity Secretary, Olisa Metuh, in a 13 paragraph statement asked Nigerians to stand against anti-democratic tendencies.
Mr Metuh said that he was worried about the impeachment plot against the Ekiti State Governor and called on the President-Elect, Gen Muhammadu Buhari, to intervene as leader of the party and call the APC to order.