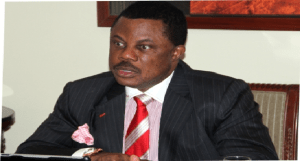 The Anambra State Governor, Willie Obiano, had commissioned 40 brand new 59-seater Buses for Anambra State Mass Transit to boost transportation in the state.
Launching the vehicles at the governor's lodge in Amambra, Mr Obiano said the welfare and well-being of the people of the State was paramount and should not be compromised.
He maintained that the Buses would ply the whole Local Government Areas with the transport fare at half of the current commercial rate.
He also assured the residents of the state that the 'Operation Fill All Pot Holes' on Anambra roads would continue for a better living standard for everyone in the State.
Governor Obiano explained that the gesture would complement the services of the 200 city cabs launched in December last year which had impacted on the people's lives positively.
Governor Obiano assured that the drivers will be well trained to provide efficient services while enhanced technology will follow the next consignment to make sure people are happy in the State.
The State Commissioner for Transport, Mr Chuma Mbonu, while disclosing that the buses will commence operations next week, said that the scheme had given a big boost to the transport sector in the State.